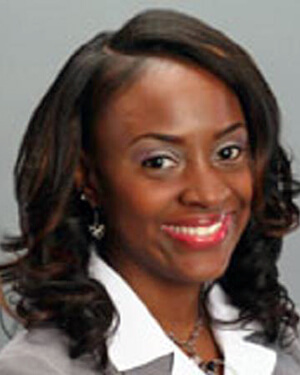 Dr. Farryn Harrison is a board certified oral and maxillofacial surgeon who provides services to patients as young as five years old.
Originally from Milledgeville, GA, Dr. Harrison earned her dental degree and completed a residency in Oral & Maxillofacial Surgery at Meharry Medical College in Nashville, TN. She was then appointed Assistant Professor and Clinical Director in the Oral & Maxillofacial Surgery department at the School of Dentistry. Dr. Harrison completed her undergraduate degree at Georgia College & State University and obtained a degree in Dental Hygiene at Macron State College.
She is a member of the following affiliations: American Board of Oral & Maxillofacial Surgery, American Association of Oral & Maxillofacial Surgeons, American Dental Association, National Dental Association, and the Georgia Society of Oral & Maxillofacial Surgeons.
Book Online Now
Complete the form below to book your appointment today.
Office Hours
Monday

8:00 AM – 5:00 PM

Tuesday

8:00 AM – 5:00 PM

Wednesday

8:00 AM – 5:00 PM

Thursday

8:00 AM – 5:00 PM

Friday

8:00 AM – 2:00 PM
* Open till 6:00 pm, every other Wednesday.
CareCredit
CareCredit is a healthcare credit card designed for your health and wellness needs. Pay for the costs of many treatments and procedures through convenient monthly payments.
Our patients leave smiling


There was not waiting and the staff were very friendly and cordial. The doctor who performed the crown lengthening had great bedside manners, made me feel at ease and explain the process before he began. He was gentle and tried to make sure I had the least amount of pain discomfort during the procedure.

Della F.



Dental One has the most upbeat staff that make a dentist visit pleasurable. They are not only friendly but very helpful and knowledgeable They also work with you to keep costs down when you don't have insurance. .

Russ W.



I had an awesome time with the staff at Dental One Associates! Jovan was amazing. He was very supportive and understanding. I was very nervous,especially because I have never been to this location, however, he assured me that I'd be ok. He is a great asset to any company! Also Dr. Zehirova was a pleasure in assisting me. She was very patient and kind. I asked a lot of questions and she answe…

Amber B.



When I arrived at Dental One Associates, I was promptly greeted, signed in, and quickly taken back for my appointment by Casey. Casey, along with the other staff, were professional and friendly. They made me feel extremely comfortable and confident. Casey exceeded my expectations during the appointment through thorough explanations and excellent care. She was genuine and gentle to ensure that I ha…

Eddie G.



I tried few dental offices but, I settled for Dental one because of their love and professionalism. I felt so much at home and I will recommend them to anyone

Shade M.



My 5 year old love it. Great customer service

VANESSA F.



You make the entire process easy, quick, friendly and affordable.

Laurie S.



I had lost my step-dad and flushed my partial in the same morning. I arrived at the office to see if I could get another made. I was told they could fit me in at 1:00pm …. that is when the events took a toll on me I could feel the tears welling up in my eyes, and told the the story of my morning. One of Dr. Sweening's assistants (Kacy) heard this and the next thing I know is they take…

John W.



Patricia, Janet, and Dr. Carden took excellent care of me from start to completion. My needs were taken care of above and beyond. I really appreciated the attention given to each step in the process. Thanks again team.

Shed



I started off going to the Fayetteville location and had to change locations only because it was too far from where I work and lived, but now I'm at the Marietta location and I have been receiving the same great services. And Uma is my favorite she educate you on what you are getting and what she is going to be doing to your teeth she is quick, but she makes sure that she takes care of your teet…

Cambra S.



I know going to the dentist can be a daunting task but I always have a great experience at this location.

Toni S.



I went in for a cleaning and Ooma explained everything she was doing and going to do. I appreciate that.

Vickye P.



Staff – professionalism – knowledgeable

Anthony L.



The staff was great – very professional – all smiles and pretty faces…

Ant L.



Dentist was great! Staff always friendly!

Betsy P.



Great dentist great staff great environment great company great service great timing

Star D.



Dr Sweeting and the staff, real Pro's !

William S.



The services was wonderful

Larry Y.



As a person who hates going to the dentist, they made it a very comfortable and welcoming place to be.

Chet M.



My last visit was swift and painless. I always feel confident in the ongoing health of my teeth after each visit I have.

Chloee R.



I FEEL THAT EVERYTHING WENT REALLY WELL, HELPFUL ENVIROMENT, WILLINGNESS TO GET A PLAN TOGETHER TO HELP REPAIR DENTAL ISSUES WAS FIRST PRIORITY ALONG WITH MANY OPTIONS

Crystal B.



Everyone is professional and friendly.

Deborah T.



the entire staff is really friendly and professional

Meghan C.



I am always seen in a timely manner. The staff is very courteous and Dr. Sweeting is the best dentist that I have ever gone to!

Virtue H.



I have been impressed with Drs. Sweeting and Carden and all of their assistants!! Wonderful work and patient care. Thank you!

Virginia P.



I have never received anything but the best care personally & business wise. The staff seems to really care for all patients & makes them feel at ease. I would recommend Dental One to anyone.

Anne H.



Excellent staff and work

Star D.



Appointments on time. Dental hygienists and assistants are pleasant and helpful. Doctors are kind, professional, and complete quality work.

Erin T.



Tina and Dr. Sweeting are the best!!

Sarah K.



The staff is always pleasant and informative!

Kim H.



The hygienist named Tina. So kind and gentle with me.

Darrell P.



Excelente servicio y amabilidad del personal.

Angelik G.



On schedule, great staff.

Mary O.



Dental One has the most upbeat staff that make a dentist visit pleasurable. They are not only friendly but very helpful and knowledgeable They also work with you to keep costs down when you don't have insurance. .

Russ W.



They were very responsive, communicative about what my teeth/gums needed and able to get me in quickly. Thank you Doctors and Dental One staff !

Robert M.



Everyone is also very professional when I enter and leave my dental appointment.

Felicia B.



Your ability to make me and my wife feel very comfortable

Lance H.



Doctor was excellent and staff assisting as well.

Lisa P.



Staff always polite and on time

Shirley S.



Everyone took great care of me frm beginning to end.

Shamice R.



Felt like I received a very good exam and cleaning for a good value.

Pamela C.



Great experience!

Marin C.



Sharon, my hygienist, is excellent.

Inger R.



Everyone is professional, knowledgeable and friendly.

Deborah T.



The doctors and staff are great….and they make you feel very comfortable.

Sharron H.



Tina and the rest of the team are always very friendly and helpful _ Tina does a great job and is always mindful of my fears.

Helen G.



Casey is a wonderful knowledgeable assistant who always puts me at ease.

Arlen G.



Very nice group of people caring!

Amber J.



Brittany at the front desk is so nice… Hannah the dental assistant is also one of the nicest people! The dentist dr z was so professional and humble. This is a great place I'm so fortunate to be a part of!

Cristina K.



You have a wonderful staff! I have been coming there for over 30 years. Glad to see Dr. Carden!

June H.



Casey is outstanding.!!! Dr Sweeting is awesome. Patricia is always so warm and friendly.

Rebecca K.



PROFESSIONAL SERVICE ALL AROUND.

Carlos G.



Good all around services.

James S.



Courteous and professional

Peter A.



I've been coming for a few years and I'm happy with the service that you provide.

Shanay E.



Good doctor Sweeting – good results, experience and skill

Alex L.



Excellent service

Devon B.



Best dentist I've ever been to. Staff was friendly and professional.

Seth P.



Great staff. Answer all questions thoroughly.

Jason S.



Friendly and very professional

Charles W.



I like the office manager, staff and doctors.

Peter A.



Tina was professional, patient, friendly, took into account my pain and concerns, and took the time necessary to perform the procedure

Agnes J.



Jovan was very sweet and the hygienist and DRs were very thorough. Will be back.

E W.



The staff was knowledgeable, friendly and polite. They worked hard to ensure everything went smoothly and on time. Dr Sweeting was outstanding and friendly. This was the second part of my procedure and had no pain during or after either procedure. I would highly recommend Dr Sweeting to do my family and friends. He is definitely a smooth operator!

Christopher H.



I adore the hygienists (Tina) and Doctor Sweeting. They are both, oh so, professional and beyond imagination thorough.

Gloria W.



I love the personable staff and their great attitudes and professionalism.

Shane P.



Friendly staff, great care from Dr.

Michelle H.



I have such a fear of the dentist, but Hanna, Dr. Z and Dr. Garden were completely awesome. They put me at ease and talked me through everything. This was the best dental experience ever. They have a patient for life!!

Catrice B.



I have been totally happy with the services provided by Tina and Dr Sweeting.

Margaret G.



Everyone is so understanding

Yolanda M.



The staff. They are like family. I have been a patient since 1992. And Happy Birthday Dr. Cardenas!

Trudie B.



Very helpful staff, great dentist. I had two implants done and the doctor was absolutely great in getting them in properly.

Russell W.



Everyone is very courteous and I'm always seen in a timely manner and Dr. Sweeting is one of the best dentists I have ever had!

Virtue H.



They are great!

Mamie P.



Staff friendly, professional, and appointment on time. Wait time less than 5 minutes.My hygienist was very knowledgeable in cleaning teeth, friendly, and recommended ways to keep teeth healthy, clean, and blemish free.

Ruth F.



They were very helpful and very imformative. My wait was not long and everyone was nice. I would definitely recommend them.

Edward W.



Doctor Cardin and Ashley are true professionals – the best

Dean B.



Casey, Janet, Dr.Z, Dr. Carden and Jovan provides superior care and is always professional. Casey is Not to bad for a veteran rookie! 5 stars!

Erik S.



Tina is great. Also glad to see that Dr. Carden is back at DentalOne.

Terry T.



Pleasant experience.

Mariah W.



Such personal and kind staff.

Shanna N.



Great service

Yolanda M.



From the lady (don't know her name) greeting me by name to the wonderful pain free patient Dr Cardon. I would recommend her to any and everybody.

Quawanna R.



No long waits in the waiting room. Nice Hygienist that makes you feel comfortable

Wanda C.



Very friendly staff

Rafael D.



The Doctors and attendants were very patient and considerate of my level of pain.

Matthew S.



Dr Z, Jervon and the staff who checks you in and out always exudes so much caring and professionalism

Iris K.



Dr Carden and his assistant Miss Janet were so efficient and friendly. I would recommend their services again to anyone. Patricia at the check out desk possessed friendliness and professionalism. Thank you!

Carrie S.



Tina and Casey were great and very fun to be around.

Michael W.



Tina, the lady who cleans my teeth. She really makes me feel at ease.

Darrell P.



From the moment I walked into the office, I was treated with exceptional customer service. The employees were personable yet at the same time professionally handled the various aspects of my visit.

Michael H.



The hygienist t was there on time and was very concerned about how I felt

Yolanda M.



Absolutely no issues!

Kyshia C.



Dr. Carden is outstanding! My procedure was quick and painless, and the doctor was gentle and thorough! Assuming there are no complications, I'm very happy with my experience! Would recommend! Signed, Happy Customer

Courtney M.



Great customer service! Dr. Sweeting, Tia, Kelcie and the whole staff are great!

Pamela M.



Easy to make appointments and services received are always professional. Tina, my dental hygenist has always taken care of my needs.

Jean P.



Casey is outstanding !!!

Rebecca K.



Very professional,caring and friendly especially Tina, and Travis has worked with me for over a year trying resolve an issue with my insurance company.

Preston P.



They were concerned about the right treatment plan for me.

Robbin B.



The friendly folks and level of service was awesome… I was seen on time which is a big deal for me. I'm not sitting around reading magazines for 45 mins. Awesome job !

Robert F.



I did not like the fact that I had a cavity but I DID like how I was able to get it filled during the same appointment. It was very quick and convenient that I did not have to make a separate appointment. Dr. Z was very professional and I could tell she had my best interest in mind.

Lisa B.



Excellent service! Extra nice staff. Gentle, respectful and aware of my needs. Would totally recommend.

Ana G.



Dr Sweeting was professional, friendly, took the time to explain and answer my questions. Hi assistant Nicole was very nice and friendly and professional too. As well as the receptionist, and the billing lady. Very friendly office

Agnes J.



Excellent experience, and staff.

Sara H.



Great service and results.

Sharon J.



Best dental cleaning in my life, very professional, and the dentists and staff are great with kids; I highly recommend them!!

Ricardo R.



I recently became a patient at Dental One Associates and my first experience was exceptional for a visit to the dentist. The receptionist was friendly and helpful. I am looking forward to continuing working on my dental health with Dr. Zehirova. My hygienist Ashley was wonderful, thorough and my teeth feel better than they have in years. Will request her to clean my teeth from now on.

Matthew W.



Professional and very caring.

Myrtle G.



The orthodontist is excellent and The staff is very good , helpful , and friendly , I like it

Aaryan C.



The personnel is very professional and provides excellent customer service. The person who checks you out (Patricia) is very thorough and patient. My hygienist Tina is the bomb. She is not only very good at what she does she also makes you feel as if you are in the comfort of your own home chatting with a friend and having your teeth cleaned. I absolutely LOVE Dental One Associates! Lorraine Marie…

Lorraine B.



Great Dr and assistant. Chair side manners were professional. Consultation was clear and to the point. Took care of the important matter first and selective one was left up to me.

Edward F.



Dental One is so organized, friendly, efficient – and they honor my discount dental plan. I highly reccomend Dr. S. Cardin

Joann M.



Awesome service. All are professional and courteous.

Louise S.



I have been going to Dental One for several years and have been very satisfied with all the people who work there.

Joann M.



I've been going to Dental One Associates of Marietta for almost 3 years. They are friendly, fast, and always send plenty of reminders about your appointment!

Terin B.



Great customer service. Great care my hygienist took to a level of "Dental Spa." She was on her game as always. Felt as if I was getting a dental spa treatment.

Edward F.



The office is courteous, professional and good at what they do.

Libby M.



Everything went very well. I couldn't believe it that I had 3 teeth pulled and I didn't have any pain afterwards. They did a very good job. Now I'm just waiting for my follow up to be fitted for my upper and lower partial.

Mialoni V.



The staff is excellent! Ashley is thorough and friendly and makes teeth cleaning more pleasant than at other offices.

Meghan C.



The office was extremely clean and organized. The assistants were knowledgeable and polite and explained to me every procedure I was scheduled for. The dentist was nice and also very professional and also helped me understand how to better take care of my oral health. Thank you!

Ralpheale A.



My Hygienist, Uma was very thorough and explained what steps I can take to improve my gum health.

Walt L.



I had a consultation with Dr Sweeting and he was very professional and thoroughly explained my condition and the treatment. The staff was also very informative and friendly

Patricia C.



I had a great experience with the staff at the Marietta location. Everybody was friendly and attentive. Dr. Z was very reassuring and thorough. Uma did my deep cleaning and she was awesome!! It was my first visit and I got an available appointnent same day to perform cleaning! I'll be returning.

Kierra B.



Always seen at appointment time. Customer service is great along with hygienist.

Christine D.



I have always been pleased with the service DOA has provided.

Abby P.



Staff was friendly and knowledgeable about products and services.

Phouvieng P.



Great dental care by friendly professional staff of Dr Sweeting, hygienist Ashley and admin Patricia. I've been a Dental One periodontal and general dentistry patient for 35 years. My wife and 3 children are all patients too. My son and I were there today for cleaning, checking and a periodontal procedure for me.

Doug S.



Been coming for years. Great staff, professional, courteous and highly experienced.

Jerome A.



Always have a good experience at Dental One. Everyone is nice and helpful. Very professional. Thank you

Shirley L.



My hygienist, Ashley, did a great job with the cleaning.

Robert T.