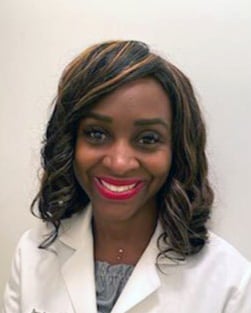 Dr. Farryn Harrison is a board certified oral and maxillofacial surgeon who provides services to patients as young as five years old.
Originally from Milledgeville, GA, Dr. Harrison earned her dental degree and completed a residency in Oral & Maxillofacial Surgery at Meharry Medical College in Nashville, TN. She was then appointed Assistant Professor and Clinical Director in the Oral & Maxillofacial Surgery department at the School of Dentistry. Dr. Harrison completed her undergraduate degree at Georgia College & State University and obtained a degree in Dental Hygiene at Macron State College.
She is a member of the following affiliations: American Board of Oral & Maxillofacial Surgery, American Association of Oral & Maxillofacial Surgeons, American Dental Association, National Dental Association, and the Georgia Society of Oral & Maxillofacial Surgeons.
Book Online Now
Complete the form below to book your appointment today.
Office Hours
Monday

9:00 AM – 5:00 PM

Tuesday

8:00 AM – 5:00 PM

Wednesday

8:00 AM – 5:00 PM

Thursday

8:00 AM – 5:00 PM

Friday

8:00 AM – 2:00 PM

Saturday

9:00 AM – 2:00 PM
* Open 2 Saturdays a month
CareCredit
CareCredit is a healthcare credit card designed for your health and wellness needs. Pay for the costs of many treatments and procedures through convenient monthly payments.
Our patients leave smiling


I highly recommend Dent One Associates based on the exceptional level of special customer care & expertise applied by each professional involved. The tab for various services received came to quite a high amount, thus my expectations for detailed explanations in advanced & through the process were just as high. From: – Mary, the Coordinator handling financial arrangements & do…

Sharon S.



I loved the way the staff treated me as a first time patient. They were even patient enough to contact and wait on my former dentist office to send files over. They had a great team of people who assisted me, trey, Jenny, and Dr Hardwick. They came up with a plan that I totally agree with, and that I feel will be in the best interest for my desired end result.

Tierrica J.



Very friendly and knowledgeable staff. Dr. Sabur is the best!

Karen N.



I am trying to click ten. The service is Amanda was excellent!!!! I came there in fear because of past experiences, your staff made me comfortable from day one!!!! I am so grateful. Your level of professionalism is top notch!!!! Thank you so much!

Cynthia L.



Dental 1 dentistry is by far the best dentist that I have been to bar none. I have visited various dentist and have felt like they cared more about their bottom line than my overall dental health. Dr. McMillan is simply the best with her attitude and true professionalism, and the dental hygienist Winsom did an A+ job cleaning my teeth as well. Highly recommended

Keith B.



Very professional and helpful in assisting to get appointment times that are convenient and conducive for my work schedule. I am pleased with the services that I receive from this office.

Stephanie C.



I have been a patient at Dental One Associates (College Park, GA) for more than 15 years. Surely, I would not remain with this Dental Office if efficient and professional services were not provided for my oral health. If any service performed is not to your expectation, every step will be taken to ensure your satisfaction. You only have to direct your concerns to Mrs. Addie Darden (Office Manager)…

Martha R.



I would recommend this location to anyone who's in need of an awesome Dentist or Orthodontist….staff here are great!!!!

Farah L.



I love my hygienist Lanae. She was honest with me and she always does a fantastic job cleaning my teeth.

Iyanna J.



Excellent service and consideration. Dr. Hardwick was so pleasant and knowledgeable. Very satisfied with the outcome.

Loretta B.



Everyone was extremely nice from the time I walked in. I've never experience a public place where everyone smiles and says "Hello" I came to bring my sister but I'm going to make me an appointment now. Love it and looking forward to Dental One taking care of my dental needs.

Delphia G.



I had a awesome experience at this location. Dr. Sabur and her assistant Darlene were outstanding. Mrs. Pat also was outstanding.I highly recommend this women there wonderful.

Taurean L.



Dental One Associates in College Park is an outstanding office. I never thought I would love going to the dentist, but the staff at this location are great, excellent, and outstanding. They are professional, they take time to talk to you about your dental care, ensure you understand all procedures, and are just plain wonderful. God bless the staff members and doctors, because I don't mind go…

Brenda B.



I took my sister who is 70 years old and gets around in a wheel chair to Dental One for a dental appointment. She had been having severe pain in her jaw from a tooth extraction over 9 months ago. Needless to say, my sister wasn't excited about visiting another dental office. Dental One gave my sister and I a "Chick-fil-A" experience in a dental Office. The customer service and treatment were…

Johnny T.



Friendly and professional staff. They make me feel comfortable.

Steve P.



Real friendly staff

Zane J.



Excellent staff, Dentist and service…One stop shop! :)

Amy V.



Excellent staff, Dentist and service…One stop shop! :)

A U.



The experience was wonderful from the appointment setting through checkout with Ms. Mary. Dr. Sabur was so nice and gentle. Darlene was a pleasure to be around. Everyone made me feel comfortable. My entire family will make this our permanent dental home!

Jay W.



Great doctor and administrators great work

Curtis B.



I have been going to dental one and associates for years. Doctor McMillan has been my dentist and she's always done a great job. The tech's and other associates there are very professional and I've never had an issue with them. Great place to be.

Breylan H.



Best dental office I've ever been to

Chris J.



Wonderful staff and they made my experience a great one.

Nathaniel T.



Pleasant environment with very nice staff

Darlene B.



A customer now for 12 years; Won't go anywhere else. :)

Rita C.



The hygienist is very skilled, knowledgeable, and courteous.

Eugina H.



The staff is very professional and friendly. The dental team is very knowledgeable, takes the time to explain procedures and what needs to be done.

Carliss R.



Friendly and very professional. Concern about your teeth being healthy.

Dahlila H.



The service provided was excellent

Fringilla M.



friendly, good patient care, clean…

Lorenzo S.



They make the visit easy and not painful, great job

Charlie W.



I'm very please with the service I received from Dr. Davidson. He's very passionate in what he does. Explains the procedure and makes sure you are comfortable. Most dentist don't care about your comfort. He makes it painless. I recommend him and the whole staff to anyone. Thanks!!

Sharon L.



Julie is a wonderful Dental Hygienist!

John S.



Awesome customer relations, very professional

Christopher W.



I have been a patient and received dental services for many years from Dental One. As a result of the impeccable service from all the staff and my respect for my Dentist, Dr. Sabur's skills and kindness, I've referred several friends and co-workers to dental One.

Rossie W.



The staff and Dr. McMillan are terrific. Would recommend them to friends and relatives. I was referred by a co-worker and she was quite pleased and so am I

Diane R.



I've always been pleased with the service from front desk to hygienist to dentist.

Mary M.



Staff attentiveness and great customer service.

Sadie S.



Ms. Winesome was my dentist in midtown Atlanta and because of her great service, I followed her all the way out to College Park.

Patricia J.



The service was good from the minute I walked in the door the Dr. Was very pleasant and very knowledgeable I had to have a bridge removed and other work , so I was very nervous, but the Dr and his assistant was very efficient so the visit went very well, also the after care instructions were great.

Christinia R.



Dr.Bailey and her staff are great! Shamika is a standout team member thanks for always going above and beyond it does not go unnoticed!

Tieshia B.



Dr Jeanette Sabur is very caring and concerned. She explains everything and listens to any concerns that I may have. The dental assistants also exhibit concern.

Cynthia C.



Always a joy to go to this Dental One… I know that is oxymoronic but I truly enjoy the experience. Dr. McMillan and staff treat me like family… I feel like I am not getting sold as well. Very very important to me. 2 thumbs way up

Keith B.



The staff is friendly and make sure your dental experience is as stress free as possible. They also have upfront pricing to make sure you know what you have to pay once services are completed.

Dwayne C.



Dr. Bruster and her "ENTIRE" staff are awesome, they get you in and get you out.

QueenMDT



Courteous professional service

Patsy J.



Winsome is wonderful

Angela L.



No long wait and the staff are friendly

Wendy M.



Great customer service in a timely manner!

Donna S.



The service was fast, friendly and efficient.

Sigrunn U.



I have great confidence in Dr. McMillan

Leroy R.



All the staff that I came in contact with was very courteous and professional

Pamela D.



Everyone was so polite, courteous and knowledgeable. They really met my needs.

Beverly J.



I love the experience I had at the dental office today, Mrs Addie, Mrs, Mary, my Dr's Sabur & Sanchez are all wonderful and though I don't like going to the dentist and dread getting dental work done I had and wonderful time and it's a family oriented here… They all took extra time to explain to me all the questions I had and was very helpful and like about it. Loved m…

Kelvin B.



Customer service

Jasmine H.



Great service and personable staff.

Melissa F.



Excellent staff. They work well together and provide clear communication.

Rebecca T.



They make me feel so comfortable because I am nervous when I go to the dentist but I wasn't nervous at all not so much I enjoyed the experience

Valorie S.



Very good staff

Michael C.



Great experience…very professional and friendly staff, luv it!

Kathy M.



I had a good doctor and she fitted me in the next day. When I got there she told me what was going to happen and make sure I was comfortable. She explained everything to me on how to care for my mouth, and made sure I had pain meds.

Theopha W.



Everyone is very thorough and pleasant!!

Janeal J.



The best dental team ever…..

Talmadge S.



I visited this office today for the first time. There was a slight mix-up about my appointment. However, Miss Mary make sure that I got everything that I needed . I was in excruciating pain. She had empathy for me. I didn't think they would be able to help me because of the mix up. I left and went to the car before I pulled off Miss Mary came out and motion for me to come back. She introduce…

Kimberly W.



Ms. Winsome is so personable and easy to be with.

Deborah Z.



A crown or cap. Dr. Hardwick was very good. She was attentive to my pain reduction and made me feel as if we've known each other for years. You just don't get that type of service now a days! Very good doctor and I would recommend her and will try to keep her as my doctor.

Troy D.



Fast service on time.

Timothy B.



The dental hygienist, Lene, is so professional and passionate about the individualized care she provides to each patient. Also, Bianca is very helpful. I did not see the dentist during this trip because she was in a training. I was seen on-time which demonstrated they respected my time.

Tamira M.



Great care, concernand customer service

Gayla S.



Excellent dental hygienist and dentist.

Pamela H.



Love my doctor

Toya B.



Great service. Caring doctors.

Talet B.



Customer service!

Darlene W.



My hygenist was FABULOUS! So patient and gentle

Twila M.



They are awesome!

Gary S.



Really enjoyed the staff very professional.

Debra J.



Everyone was friendly and very polite to me

Sherissa W.



Excellent service!!!

Norman E.



I have no problem. The staff is courtesy and friendly.

Dahlila H.



Lovely atmosphere. Great employees and friendly feel

Tanisha W.



I love coming here, everyone is so nice and very engaging!

Jamella T.



Professional and knowledgeable

Tiffany P.



I feel that the office does a good job.

Veronica L.



Good doctor and good assistance

Mao C.



Dr Bruster and her staff are Amazing!!!! I would recommend her to everybody

Bernita H.



Every one was very professional and I love that and was very kind.

Shelia D.



The Hygienist Miss Winsome was very nice and I had an overall pleasant experience

Clorissa W.



Dr Subur is ALWAYS polite and professional. My visit was very smooth and much faster than expected. She always takes time to answer any questions I have. Her assistant was very nice and informative.

Dawn V.



Lene is super! Have a kind spirit and I enjoy her on each visit.

Mary W.



Great customer service. Everyone was very friendly and courteous. Great environment.

Curtis G.



Good service

Horace G.



The staff and Dr sabur are wonderful and comforting.

Alicia P.



The service and friendly plus professional.

Haywood S.



Dr. Sanchez takes the time to make sure that you understand the treatment and its effects.

Irma S.



Been here since I was a wee child. Love it. Dr. Sabur is the best.

Tre R.



The service was wonderful.. The staff courteous and professional.

Beverly E.



I've never been to a dentist that was this thorough. I learned a lot and got awesome care. Quality care

Nicole H.



Dental One in College Park, Ga is wonderful I guess because I just love my hygienist.

Charlene C.



Because of good service provided by this office.

Rufus O.



I've already recommended Dental One to a few people. Like their professionalism and very clean facilities.

Kevin F.



I like the service and I like the fact that I can do everything in one location. the staff is very friendly as well as the Doctors. I really enjoy coming to the dentist now.

John M.



Great Service!

Quenna C.



Staff pleasant, professional and valued my time.

Felecia M.



The excellent service and the friendly demeanor. I truly feel that they care more about my dental health rather than the bottom line.

Keith B.



This is the best place! I love Dr Bruster, Meka, Drika and Pam!! But that Shaneeka!! Just kiddin'. Love them all!!! Muuaah

J D.



The staff is always pleasant

Angela M.



Best service around with a smile.

Anthony S.



Friendly receptionist and front office staff-they call you by name with your courtesy title. Debbie and her assistant are friendly, efficient in delivering dental care.

Carolyn C.



Excellent service

Whitney T.



The assistant Britney was such a pleasure to deal with. It's so nice to be around people that are so genuine and love their jobs. She really made the experience so much better. I appreciate you Britney

Quintessa H.



100

Denise B.



Good customer service and support

Deborah P.



Everyone is always friendly. And that is one of the most important qualities to me. I always feel comfortable during my appointments. I recommend my dentist Dr. Sabur and the office whenever I am asked.

Tonya L.



The quality of the clean and the friendliness of the dentist

Michael S.



Very thorough treatment and very friendly staff

Kemberlee K.



Ms. Wisome, was my hygienist today! She did a wonderful job of communicating with me what I was having done. I feel she did a good job. Thanks Ms. Wisome. Keep up the work!!

Faith W.



6 month cleaning. Lene is very competent and thorough. She genuinely cares about my teeth and went to great lengths-way more than Dr. Sabur- to assure I have healthy teeth for the long term.

Tamira M.



This Dental office is Awesome!!!. The appointment wait times are quick. Their products are vert good, staff are very friendly and professional and they have really.. good prices. The price they quoted me was three times cheaper than another office I went to . I highly recommend this office.

Veronica R.



The office is very friendly and concerned about the care provided.

Stephen S.



Prompt, personal, familiar, professional service. Add that the procedure was done without any discomfort!

Arthur L.



I gave this score is because of my favorite dental hygienist Debbie. Not only does she take her time, but also she cares about her patients. She explains everything that she does to your teeth.

Michelle C.



Very friendly and professional staff. The location is perfect and very close to my home/job.

Samuel C.



Love my service . The convenience of having your dentist and orthodontist in same office is awesome. Shenika (ortho receptionist) is excellent.

Tennille R.



I've always been treated very kind and welcomed when I enter the doors at Dental One and it's a sense of calmness at all times. I really appreciate the staff there.

Carlton L.



Everyone at Dental One are so friendly and inviting. I love how they gave me a dental hygiene plan to help me maintain my healthy teeth.

Lashunda P.



The atmosphere and attitudes of the staff was so comforting. I've had some not so good experiences at other Dental offices.

Betty S.



Amazing personnel who were engaging, informative, and friendly.

Noel C.



Friendly, caring, personable and professional service.

George O.



I love the service there, and everyone is so nice and friendly!

Andrea R.



Efficiency and affordable plans to help with payments.

Vicki L.



The service & care for teeth has been great. The dentists that I've had the opportunity to talk to have been helpful

Audrey F.



Professional and courteous service.

Marie W.



Great Service!! Excellent, prompt, gentle care provided by all!!!

Nadine R.



Friendly staff and above and beyond customer service!!

Catrina R.



The primary reason that I selected an 8 is the fact that I didn't have to wait long after signing in at the front desk. I really enjoyed my visit with Debbie and her assistant. Not only does Debbie takes her time cleaning my teeth, but also she has a pleasant demeanor. She is always the same on every visit. Dr. Sabur is awesome, too. She is always smiling!! You guys keep up the good work!!!

Michelle C.



I am very satisfied with the level of treatment and the professionalism shown by the staff.

Avaline R.



The staff is very customer service oriented. My dental representatives were very friendly and made me feel comfortable.

Michelle M.



Staff is competent and friendly. Prices are not too bad and you get a breakdown of your expenses.

Constance R.



Location and the staff interaction. They took the time to explain all the procedures and they were helpful.

Gwen S.



The dentist took her time to figure out what going on with my tooth

Marlene T.



My Orthodontist Kathy Bruster and her staff are absolutely phenomenal! I have enjoyed going in there for the past two years!!!! They are kind, compassionate, caring and so so friendly! I love them!!! Now as for the front desk of Dental One they are great as well! Very professional always smiling and they are expeditious at every task love them Too!!! In Short this place is cool and so are the empl…

Tracy J.